There was an auction this time fifty years ago.
I wasn't at it but my father was.
The bidding was brisk and soon rose to £900 [offered by the Da]. The auctioneer then stopped the bidding, took the two interested parties outside and explained that there was a reserve of £1,000. "£1,010" says the Old Man and thus he [and ultimately myself] became proud owners of a fair slice of Wicklow, along with a cottage with no sewage, no water and only one power socket for electricity.
I was still at school then with another year or two to run. I was young and had yet to discover the delights of life. I hadn't even smoked my first pipe nor grown a beard.
Having bought the place my father [an engineer] designed a large extension to the cottage and between himself and myself we built it. He was the brains and I was the brawn, so I got to do the easy stuff like digging foundations by hand, block laying and a lot of carpentry, while he did the hard stuff like telling me where to dig for drains. If any of you have ever built a house single handedly, you'll know what's involved.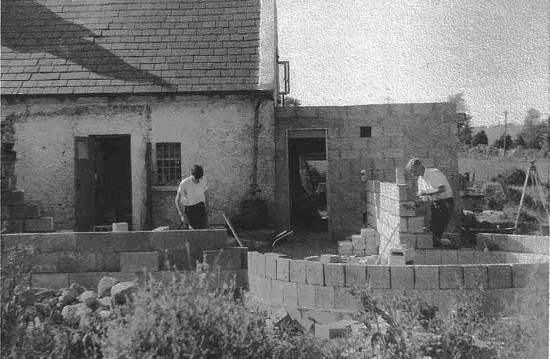 Me [on the left, block laying]. Father [on the right, checking my levels]
Quite a lot has happened since then. I lost my father, my mother and my sister to The Grim Reaper. I also lost a brother but as far as I know, he's still around somewhere though I haven't seen him in years. I went through college and a lifetimes graft before the mast. I met Herself and 36 years ago [on this date, as it happens! Happy Birthday, Kid!] the daughter came along.
The path from being a spotty teenager to a nice lovable old pensioner has not been easy but it has been fun. Given my chances again I doubt I would do anything differently, which I suppose is a good reason to be content?
So I'm sitting here in the extension what I built all those years ago and am wondering where the fuck all those years went. In some ways the house hasn't changed much in fifty years. I put in central heating, a new kitchen, doors out to the estate and a couple of roof windows but that's about it. The house is not only still standing but there isn't a settlement crack to be seen. When I build foundations I really build 'em.
I suppose that's the moral of this wee tale?
If you're going to build foundations for life, make sure they are really fucking strong.