The ultimate bottom feeder
Does anyone remember Mary "Mad Cow" Harney?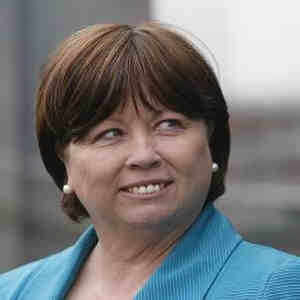 She's the lump of lard that single-handedly managed to destroy our health services. Her brilliant idea of efficiency was to close hospitals left right and centre, concentrating on the few remaining and turning them into her so called "centres of excellence". The concept was that all the relevant experts were housed in one hospital. The practical result was that if you suffered from some ailment, you had to travel to the far end of the country to get treatment. It was an unmitigated fucking disaster.
If she had been working for a private company she would have been sacked in the first week for sheer incompetence.
The best thing she ever did for the health service was to be unceremoniously fucked out of office at the last election.
Apparently she is still around.
Here is a list of her current jobs –
European Federation of Pharmaceutical Industries and Associations [board member]
AMBER [chairwoman]
Diona [board member?]
Euro Insurances [director]
Ward Biotech [director]
Ward Research & Development [director]
60 Minute Innovation [board member]
Hospice Foundation of Ireland [director]
Vital Voices [board member]
Biocon [board member]
While most of would be contented with one job, this trough feeder has to have at least ten.
I would assume she is being paid handsomely for her services?
So why am I paying taxes to fund her state pension of over €120,000 every year?