I'm a Grandad.
Again.
Daughter's produce number four popped out yesterday afternoon weighing a healthy 5 tons 12 cwt [though that could have been 5 lbs 12 oz? I get confused].
For my women readers who will doubtless want to know the details – it's a girl.
Babies show up one of the starkest differences between men and women. Women are hard wired to go all gooey at the mere sight of an infant [hence the proliferation of sickly ads on television] but to most men all babies look much the same. I know I'm in that category. Herself spent all last night cooing over the photographs and going all sloppy on Farcebook, but as far as I am concerned I'm just delighted that my daughter and her daughter are fine.
I did a check and apparently every couple of days a million babies are born so I can truthfully and proudly say that the new granddaughter is one in a million?
I wasn't able to get in to see them last night as unfortunately I had to suffer the tradition of allowing everyone in the pub buy me a drink. It's a tough job being a Grandad, but somebody has to do it. That might explain why I have been a tad tardy replying to comments from all my new readers here.
Anyhows, for those of you [particularly the women] who are interested, here she is.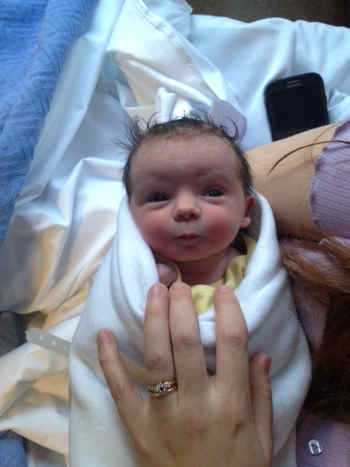 She's lucky.
I'll think of her every time I see a full moon from now on.