Made it!
I have survived reasonably intact with only a few scrapes and bruises, and stramgely enough [considering the amount I drank] – no hangover.
I am always a bit wary about this week between Christmas and the New Year.
It's a sort of non-week where people are waking up and wondering what all the fuss was about. A lot of people keep a few days leave to make a break of it so no one is quite sure what's open for business and what isn't.
What I like least about this week is that it seems to be the time when people become obsessed with retrospection. Who fucking cares what happened this year? It was mostly pretty dire stuff and I don't wish to be reminded of it. The bits I want to remember I will happily remember but the vast majority of past events can be simply consigned to the dustbin of history. I prefer to look ahead and not backwards.
Personally I am just going to relax and ignore the sales they seem so desperate to lure me into [doors open at 6 this morning for fuck's sake!] and all those ghastly sports "personality" awards that seem to proliferate at this time of year. It's pissing sleet at the moment so they can count me out of the Leopardstown Races too, not that I have ever been nor would I ever go even if it was brilliant sunshine and thirty degrees in the shade.
I will leave you with a photograph of the beautifully cooked and remarkably shapely turkey what my daughter served up.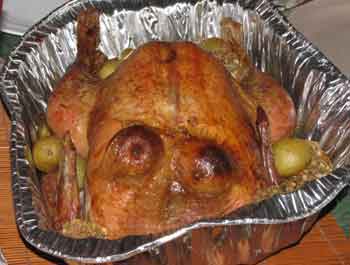 I think it was a female bird?