There are interesting times ahead.
The Plain People of Ireland have clearly stated that they have little respect for any of the political parties here.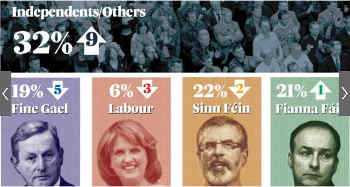 Labour are dead ducks, which is only befitting a party who lied through their teeth and then acted as "yes men" just to grab a seat at the table.
Fianna Fáil and Fine Gael between them have shown themselves to care only about big business and Europe, while taxing the poorest and leaving the Plain People to fend for themselves.
Sinn Féin are acting like kids who have been invited to sit at the grown up's table and haven't quite learned how to behave.
So the only viable alternatives are the independents.
Whatever the outcome, it's going to be a mess. Both Fianna Fáil and Fine Gael have stated they won't go into coalition with Sinn Féin, and Labour are effectively out of the running, so that means a coalition consisting of a party along with a rake of independents. Or to summarise – a right fucking mess.
What this country need is a new party. It's as simple as that. And the new party need have only one item on its manifesto – to put the Plain People of Ireland at the top of the list of priorities. If that means clashing with the EU, then fuck the EU. If the banks start complaining then fuck the banks. If big business starts complaining then tough shit. Furthermore, that party would have to consist of new blood and not just the same self serving lying toe rags rebranding themselves under a different name.
That isn't going to happen though.
What will happen is that the various parties are going to start making promises. They will promise to cut tax, repeal taxes and make promises of happy days ahead [provided that we elect them]. And the Plain People of Ireland will be sucked into those promises, forgetting that last time around all those promises were promptly forgotten once the ballot stations closed.
In other words, no change.