So it looks like the UK is going to ban smoking in cars with children present?
Laying aside the fact that as a child I was driven countless miles in a smoke filled car and it never did my an iota of harm, this is an insane law.
It is insane on so many levels.
Firstly and most importantly it will be impossible to enforce. Kids sitting in the back of a car are all but invisible to a casual bystander. To be enforced, the police would have to set up road blocks to check all vehicles which is a waste of their and the motorist's time.
The new laws propose that the driver of the car is "responsible" for the behavior of his [or her] passengers. It is to by my responsibility to nag and bully an adult passenger if there are kids in the back? So while a smoker can be fined £800 for smoking, the driver can be fined £10,000, not for smoking but for failing to enforce a law? It is not my job to enforce any laws and no amount of blackmailing is going to force me into doing something which I find morally repugnant.
We all know where this is heading of course?
Only the simplest of minds could fail to predict a total ban on smoking in all cars whether there are children are present or not. It will be brought in either "to protect the health of the adults" or "because it was too difficult to enforce the ban where children are present". So technically I could be driving along, minding my own business and puffing my pipe, and I can be stopped and fined for the sake of my health? Is the secondary smoke more dangerous than the primary? Will it be illegal to do something legal?
If these insane laws are brought in in this country [which I have no doubt they will] I have a few options open to me.
I can get tinted glass for my car.
Or a cheaper option would be to simply ban children for my car. Let the little bastards walk.
I am already working on a little windscreen notice to that effect.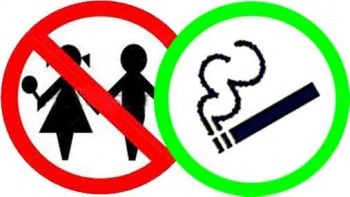 And if they bring in a total ban on smoking in cars, I'll see 'em in court.