OK, so I'm back.
I'm back to about five hundred emails which I have to trawl through to see if any are important.
I'm back to over three hundred items in my feed reader [sorry Lads, but I ain't gonna read 'em all].
I see I'm back to over a hundred comments on my last post. Thanks, Brianf and everyone else!
I'm back to a kettle that takes less than half an hour to boil and that isn't attached to the wall by a six inch length of flex.
I'm back to a toaster that doesn't ignore one side of slice of bread while incinerating the other side.
I'm back to a chair that is nicely arse-shaped and that doesn't cripple me if I sit for more than five minutes.
In case anyone is wondering [which I know you're not] I did actually have access to the Interweb. All the local towns and cafés seemed to have free wi-fi but I just didn't feel like lugging a laptop around with me. I tried connecting using my mobile phone thingy, but it took about half an hour to load one fucking page, and the keyboard is about an inch wide, so I wasn't going to waste my precious holiday playing around with that.
What did I do then, you ask?
I took a ton of photographs [well… 95 to be exact]. I did a bit of driving around and visiting the local pubs, cafés and other assorted destinations. I ate out quite a lot. Mainly though I just sat and enjoyed the sun, the tranquility and the scenery.
And I read.
I mentioned before how it had taken me about six months to get half way through Stephen King's "Black House". I finished that and then read another couple of books –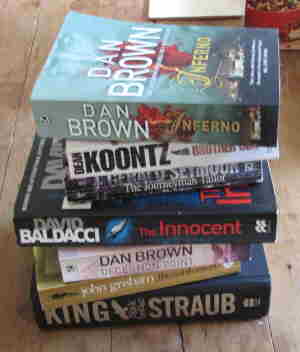 I finally ran out of reading matter so in the end I took the ultimate solution and carried on writing my own.
The only problem was that it was very hot out; too hot to do any typing so that little task was confined to late evenings.
There were also a few wildlife distractions –