There was a little "discussion" down the pub last night.
A while ago, Pullit bought another clock for the bar. There was nothing wrong with the old one which still hangs over the fireplace telling the time accurately ten minutes fast as all pub clocks should do, but Pullit decided to put another one up on the opposite wall, just for the laugh.
You see, the new clock is one of those ones that goes backwards. It is as accurate as any other clock, but it takes a little getting used to as the hands travel in the opposite direction to the usual.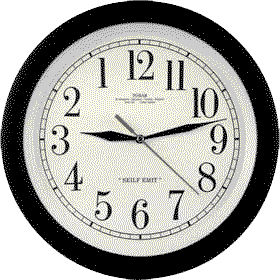 Last night I casually asked no one in particular which way did the hands move on the new clock. Did they move clockwise or anticlockwise?
I didn't mean to start a fight [well, maybe I did] but quite a heated debate ensued. On one side, Stoney, Sherrif and the vicar's wife [don't know what she was doing there?] maintained that the hands went anticlockwise because they moved from right to left. On the other side, Spanner and I pointed out that "clockwise" is defined by the way the hands rotate on a clock and therefore it didn't matter which way the hands moved, as their movement inherently defined their direction as clockwise. Pullit refused to be drawn in and just maintained that it was his fucking clock in his fucking bar and he didn't give a fuck which way the hands went provided they told the fucking time.
Quite a few patrons got drawn into the "discussion" and things got a little out of hand. In the end, Pullit took down the clock and threw us all out.
Bastard.
I still maintain those hands go clockwise though.