Be careful what you wish for
There is an old story about the lame man who prays for a miracle.
He has one good leg, and one badly distorted leg as a result of some accident or other.
He hobbles up to the altar and beseeches God to make both his legs the same. In a blinding flash his prayers are answered and he ends up with two badly distorted legs.
That is a rather nice illustration of what our illustrious Minister for "Health" is doing to the Health Service.
At present we have a hopelessly dysfunctional Public Health System where there are massive queues for essential operations, people having to sleep on trollies in Accident & Emergency Departments, and God help you if you need an ambulance – you'd be quicker walking. Money is being drained away by this system faster than a wino pissing in the gutter.
On the other hand there is the Private System. Here people take out private health insurance and if you need some medical procedure you will get it more or less straight away in the best hospitals around. This system is outrageously expensive but it works, and if you place any value in yourself it's the system to opt for.
Now Reilly reckons he is going to do away with this two-tier system and make it a one-tier system, whereby insurance is compulsory for every man woman and child in the state, mostly paid for by taxes [i.e. you and me again].
Under UHI, everyone will have equal access to a standard package of services. Health insurers will not be allowed to sell products that provide faster access to these services.
Why do I have a horrible feeling we are going to end up with two badly distorted legs?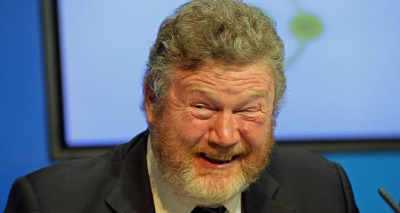 Health Minister or Temple Bar Wino?
I'll let you decide.