Writing of his travels through England […] Jorévin de Rochefort records how, in the course of a visit to Worcester, his friend
"asked me if it was the custom in France, as in England, that when the children went to school, they carried in their satchels, with their books, a pipe of tobacco, which their mothers took care to fill early in the morning, it serving them instead of a breakfast; and that at the accustomed hour every one laid aside his book to light his pipe, the master smoking with them, and teaching them how to hold their pipes and draw in the tobacco; thus accustoming them to it from their youth, believing it absolutely necessary for a man's health."
That should give the Anti-Smokers a heart attack or two?
With a bit of luck?
Anyhows, the above is a little extract from an excellent book by Dr Sean Gabb [who, incidentally is a non-smoker] –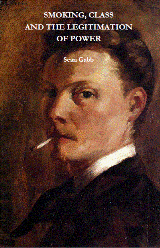 You can read it here or buy it here
Thanks Mick, for the pointer!