There have been some upheavals here at the Manor over the last few days.
I have had to do a bit of travelling which thankfully is now over.
There was some worrying news which thankfully turned out to be a false alarm.
All in all it has been a bit distracting which is very unfortunate for any first time visitors from the Blog Awards site who are expecting hilarity and high octane jokes. All they find is me moaning abut a referendum.
Some good things did happen during the week though.
The daughter was on telly.
Some of you may be aware that she upped sticks and vanished over to Costa Rica earlier this year? She claimed she was making a television programme but I had my doubts, especially when I saw all that spilled white powder in the bottom of her travel bag. She said it was talc but I had my suspicions.
It transpired however that she was telling the truth [for once] and the first of the series aired on Monday evening, and every Monday evening at 5 on RTE2.
If any of you are interested, the programme can be seen here [for the next 19 days anyway]. She appears at 1:42. You have to be quick though as she is gone by 1:49. Seven seconds of fame!
For those of you who couldn't be arsed fiddling around with that damned player [it rarely works for me] then just stare at this for seven seconds. It's much the same effect.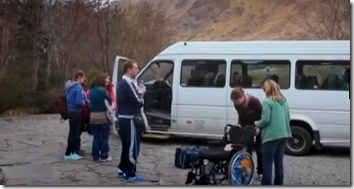 That's her. Second from the right in a dark jacket, trying to work out how to assemble a wheelchair.
And she even got her name in the credits for that?
Mind you, they used her wrong name, but then she has so many it's not surprising. I have a copy of her driving licence here that has the correct name but the wrong address.
She's a very confusing girl is my daughter.
But I'm very proud of her.
Don't tell her I said that though.