All good things must come to an end, so they say.
Whoever the fuck "they" are?
So I am back from No-Interwebland, and the world seems to have survived?
I see we have been having some fun on my last post's comments. 117 comments? I'm impressed. I can't reply to 'em all, but will read through them the next time I'm taking a dump.
As for where I was – I was in the most peaceful spot on Earth. No barking neighbours' dogs; no barking neighbours; in fact no neighbours at all unless you count the seals, otters and other assorted aquatic wildlife. The only traffic was on the water – fishing boats, yachts and the odd RIB to add a bit of noise.
I was a little concerned that the owner of the place might have been a little put off by the state I left the place, but I got an email last night saying she had looked around as was impressed at the way I had repaired the fire damage and that the loss of the end wall did improve the view somewhat. So she's happy and I'm happy. I upped Herself's Prozac dose so she is always happy one way or another. The only one who is glad to be home is Penny. She was a little confused as to what the holiday was all about and passed the time chasing flies. She's damned good at that and caught just about every one of them. Saved a fortune in dog food.
So it looks like I may have found a spot to return to.
Roll on next holiday.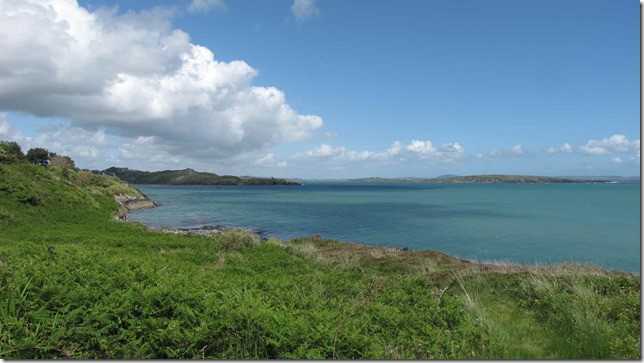 The view from the living room window.
[Click to embiggen.]