I know not one of you is interested in my oil-leak exploits and their final outcome, so I'm going to tell you.
I went off in my trusty chariot [with Penny once again snoring on the back seat – she's a really dull passenger] and went to the local hardware store. I bought myself a load of PTFE tape and tubes of gunk and gunge and the whole lot cost almost exactly twice as much as the fucking filter.
Back at the ranch I set to work.
Now the problem with the filter is that there are so many fucking joints and all of them have to be water oil tight.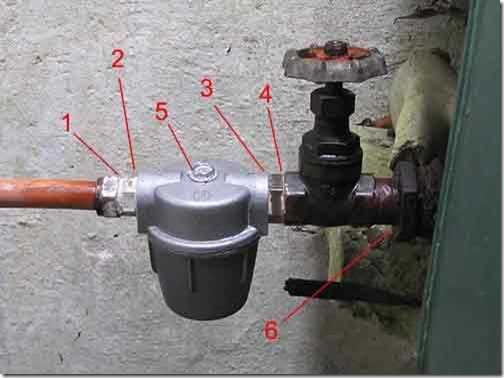 The first thing to note is that I have to be very careful not to disturb Joint 6. If that leaks, I am fucked as the entire tank can then empty and there is nothing I can do to stop it as it's the wrong side of the tap.
Anyhows, I dismantled the whole yoke, slathered gunk and rolling tape liberally on the various threads and reassembled it. I turned on the tap.
It leaked.
It seemed to be Joint 3 so I dismantled the whole lot again, re-slathered the joint and reassembled.
It leaked.
This time it was Joint 1 which naturally had been disturbed and I had to disassemble the whole fucking lot again.
We played this game of catch-up for a while – I would fix a joint and another would start leaking until eventually I had pumped half my store of gunk into the joints. After about the tenth fix I reckoned I had it beaten, so I wiped the lot down and waited to see what happened.
It leaked.
This one had me baffled. I had cleaned off each joint and reapplied gunk and gunge so I was on the point of just saying fuckit and setting fire to the lot. But then I realised what had happened.
Each time I had reassembled it, I had to bleed the air out of the top [5] and I had unscrewed and re-screwed the nut so many times that the washer was fucked. At least that didn't involve disassembling the whole shagging lot again.
I applied more gunk.
It didn't leak.
It has rained ever since so it was a bit pointless checking for drips and leaks as the thing was dripping anyway. But today the rain has actually stopped, and so apparently has my leak as the filter is bone dry, and the stench of kerosene has abated somewhat.
I'll tell you one thing though.
If it leaks again I'm going back to burning coal.