I was browsing through the papers this morning when I came across an item.
The item was about an Israeli soldier posting a photograph on a social network site, though the context of the article isn't what struck me. What jumped out of the page were the two words "sparked outrage".
What is this "outrage". It seems to appear everywhere. Every day someone or something "sparks outrage" and there is a flurry of activity on the Interweb until someone promises to "hold an investigation", whereupon the Outraged can relax as their job is done.
To me, the word "outrage" conjures up an image of rooms full of Mary Whitehouses all scouring the news to see if there is anything that might offend their oh so touchy sensibilities. Have these people not got a life to lead? Are their lives so empty that they justify their existence by tut tutting at things that offend them?
The photograph that sparked this was of a boy's left ear in the scope of a sniper rifle. I looked at the photograph before reading the article, and my thoughts were that it was technically a mildly interesting composition, but nothing more than that. My thoughts on the conflict between Israel and Palestine didn't even enter the equation. It was, after all just a photograph. But this isn't enough for the Outraged. They have to read all sorts of agendas into it and have to display their moral disgust.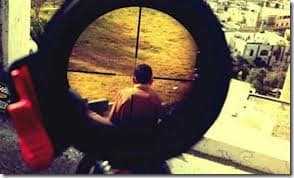 Who are these people who spend their lives scouring web pages and Twitter looking for offence? What is their moral standard by which we are expected to live? Do they lie in bed at night seething over every petty event that they witnessed during the day? Are their fingers itching to get typing on Twitter so they can tell the world of their disgust?
Why can't they just mind their own fucking business and get a fucking life?