Modern electrical plugs really piss me off.
Who was the bright spark who came up with the idea of sticking a transformer in the plug itself?  Did they not realise that those plugs have virtually rendered three-way adaptors obsolete?
I have quite a few of those adaptors.  You know the ones – like a white cube with sockets on the top, side and front?  Stick a transformer type plug in and it promptly transforms a three-way adaptor into a two-way adaptor.  Very fucking clever.
I have had to bin most of my adaptors and have replaced them with those long panel things with four or six sockets.  They are all over the house now.  And every single one of 'em seems to be full.  In some areas I even have panels feeding other panels which leads to a right mess of cables.
My favourite place is the junk room.  That has two standard sockets like any normal room.  However, that is where the Interweb enters so I need sockets for
The broadband aerial
Two routers
A network hub
PC
PC's monitor
Printer
Phone
My little server thing serves all my music
The external drive that holds all my music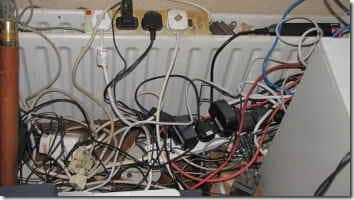 All of that comes off one socket in the wall.  Ten plugs; one socket?  The other socket is taken by a freezer unit I keep in there.  There are so many patch-panels, power cables and network cables in there that there is no room for any junk.  And before anyone whinges about fire hazards, they are all very low power consumption, but there is just one hell of a lot of 'em.
Why can't someone invent wireless power?