Someone posted a flyer in the letterbox last week.
It's a little note from my dear friends in the County Council.
They tell me [rather overly officiously, in my opinion] that they are going to rip up my lane in order to facilitate their Watermain Installation Project.  Sounds very grand, doesn't it?
I haven't a fucking clue what this is all about and nor have any of the neighbours.  No one has asked for a new watermain, and we are all reasonably happy with the status quo.  There are no leaks that I am aware of, nor are there any plans to build a massive housing estate here.  So why they wish to do this is a mystery.  I can only conclude that they have shed loads of money to spend and we are the lucky beneficiaries.
I can only presume that this is a very unsubtle method to facilitate their fucking water meters in the future.  As it stands, they haven't a clue how our water supplies work up the lane [we do, but we ain't telling] and this is their way of ensuring that we all get lovely little meters installed.  If this is the case, then they are asking me to facilitate them in their efforts to fleece me in the future?  They can kiss my arse.
One line that caught my eye in the flier is tucked in about half way down where you might miss it.  It says [and I quote] "The contractor carrying out this work on our behalf will ensure that all excavations and surfaces are returned to the same standard as found."
Hah!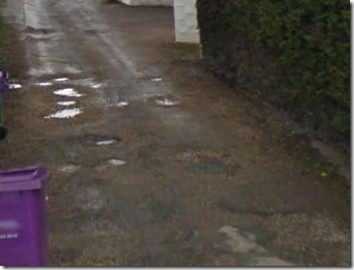 The lane on a really good day.
I am going to go out and take plaster casts of those holes.
If they are not replaced precisely as they were there will be fucking hell to pay.