So that's it, huh?
That's what all the fuss is about?
A mountain of torn paper, a bin load of empty beer cans and whiskey bottles, a Missus with a nervous breakdown, a fridge full of hacked off turkey and cold roast potatoes and a jack-hammer headache?
I found this in the camera today though I don't remember taking it –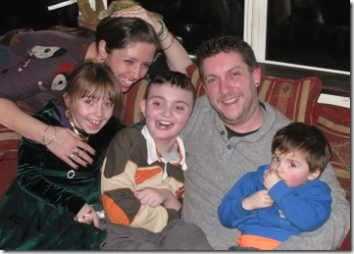 Puppychild, K8, Laughingboy, Tat and Sir Fartzalott
Herself tells me I got them to laugh by telling 'em the dirtiest joke I know [the one about the Pope, the actress and the ping-pong balls, and I am not repeating it here].  She hasn't forgiven me for that one yet.
I am told I enjoyed myself anyway.
All I have to do now is sweep up the broken glass and tidy the place a bit.
God knows how it got there, but does anyone know how to clean blood off a wall?