One of the great hates in Sandy's life was Bertie.  [Bertie, a heron.  Gettit?]
I haven't seen Bertie for at least a year but he turned up today and did a dance on top of one of our trees.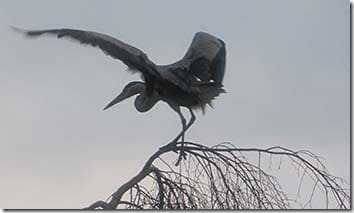 Bertie dancing.
The branch was quite wet and slippery so he had to flap and hop from claw to claw for quite a while to get his balance.  It was a spectacular sight.
Penny was not impressed.
I have never seen Penny in angry form before.  My theory is that she is just too fucking lazy to get her dander up, but this morning her dander was well and truly up and rearing for a fight.  For the first time, her hackles raised and I noticed an interesting phenomenon – the hackles rose on the back of her neck and at the base of her tail, which is quite normal, but she also has a clump of hackles about a third of the way down her tail which looked a bit weird.
It was just like the old days.  Penny went streaking off down the garden and Bertie flew off in a huff to wherever it is that huffed herons hang out.  I'm sure Sandy was looking down and having a right laugh.
Having seen off the intruder, Penny reverted to form and came in for breakfast. 
Is it normal for a dog to be so fucking lazy that she has to lie down to eat?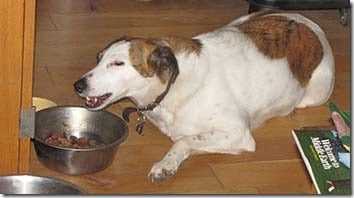 Breakfast in bed