As far as I remember, I have voted in every election and referendum in the last forty or so years.
Yesterday I probably cast my last vote.
There is no point any more.
Europe dictates our legal system.  Now it effectively dictates our finances.  What is there left?  Our gubmint has sunk to the level of deciding which hospitals and schools to close.  All the important stuff will be decided by the unelected gang in Brussels.
Also there is no one left to vote for.  My contempt for Fine Gael and labour now equals that that I formerly reserved for Fianna Fail.   A vote now would just be my preference for the next Quisling government.
I just wonder now how long it will be before they start rounding up dissidents?  It is already illegal to criticise the EU [that shower of unelected fucking cunts] so the next step will be to silence the opposition.  I would say I'll have to go underground, but frankly I haven't been overground that much in the past.  Either way, I'm prepared.  Heh!
It is indeed a sad day for this country.
Willkommen beim Deutschen Region früher als Irland bekannt
–oOo–
Just received this from tt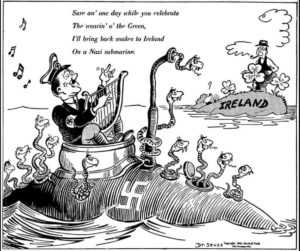 [Click to embiggen]
From the Huffington Post