I have a wee yoke at the bottom of my screen here.
It tells me the actual temperature and the perceived temperature.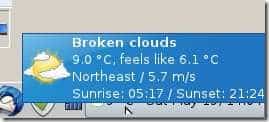 Nine fucking degrees!
And I can testify that the other figure is reasonably correct – though step outside the house and it actually feels a lot colder than six.
It is fucking freezing out there
The only bright spot is that there is no rain, which makes a big change.
So where the fuck is Global Warming?
According to cunts like Gore, I should be growing grapes and cacti all year round by now.  We are supposed to be emigrating north to cooler climates.  So where the fuck are all these high temperatures he warned us about?
I am paying carbon tax on my heating oil because burning it adds to Global Warming, yet I am having to burn that oil because of Global Fucking Cooling.
Methinks it's time to wrap up warm and go out to burn a few car tyres.
Anything to hasten on a drop of climate change.