Today is World Earth Day.
How cuddly tree huggingly sweet.
I had to look up the Interwebs to find out precisely what the fuck this is about.
Apparently it is to "help Mobilize the Earth".  What?  What in the name of all that's holy does that mean?  It must mean something because they have actually trademarked the words "Mobilize the Earth".  Yup – they even got the spelling wrong in their fucking trademark.
I delved further into the mysteries of this "event" and found what I am supposed to be doing.  I am supposed to be organising "meetings" or attending "events".  Actually, I can do that.  I'll organise a few of us to meet in the pub tonight and call it a drinking event.  But I have a nasty sneaking suspicion that this isn't quite what they had in mind.  We would have to "voice our appreciation for the planet". 
This is getting nauseous.
My problem is that any time I hear any of this bullshit, a nasty vision comes to mind.  I have visions of rooms full of clones of our very own Duncan Stewart.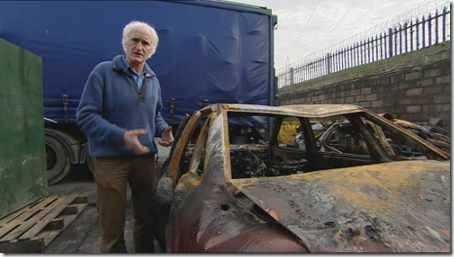 Duncan with his brand new eco-friendly sustainable car.
Now some may ask who Duncan Stewart is?  Our Duncan is an eco-friendly sustainable renewable gobshite who appears much too regularly in our television programmes.  He is incapable of making a simple statement without whispering some tree-hugging green platitude or other.  I intend one day to see just how renewable he is, just as soon as I can drop a very eco-unfriendly concrete block on him.
I see there are a few events planned in Ireland.  One is outside Cork in Carraigtwohill.  It seems to be mainly quizzes and prizes [guess the subject matter of the quizzes!].  They are expecting up to 500 people and I hope it stays fine for them [so far, number of people signed up… zero].  There are a couple planned for Dublin as well, mostly involving water for some reason.  They are slightly less ambitious in Dublin with expectations of 200.  No one has signed up for that either.  Heh!
I do wish these people would go away.  If every sinner in this country suddenly switched to living in mud-huts lit by CFL bulbs, powered by a windmill in the back garden it would do sweet fuck all for the world.  It certainly wouldn't "mobilize" it.
It would just mean that we would all be miserable in our mud huts.