I don't have time to write anything today.
I'm too busy copying my old LP collection into digital whatsits.
You see, I do most of my listening on modern stuff like computers or televisions or even digital radios so having a dirty great stack of hi-fi stuff cluttering up the corner of the room is a bit silly.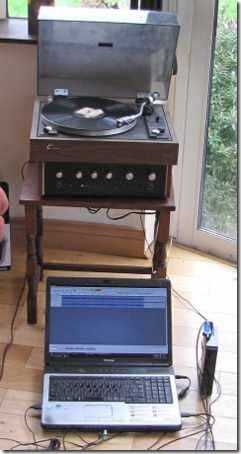 Digitising LPs is quite a tedious job.
It starts off at the top of the pile in the record deck. 
It then drops down through the black bux underneath where it is amplified a little bit and then on down to the laptop on the floor.
When the laptop has done its work recording, I then copy all the files to the little box to the right of the laptop.  That's one of my two Terror Biters, or whatever they're called.
You will notice that the whole setup is gravity fed, which I think is quite clever?
When everything is done I will connect the black box to this machine and then the fun begins – I have to process all the files [there will be eight of 'em as I'm currently working on a four LP box set].
I'll have to split the files into the individual tracks and then label each one with the things like Track name, Artist, Number of the side and stuff like that.
I reckon I should have it finished by Wednesday [next year].
I'm sort of fond of the record deck and the amplifier.  The are part of a full kit that included speakers, a cassette deck and a tuner which I bought with my first wage packet in 1971.  Surprisingly they all still work, apart from the main volume control being a bit erratic and the bearings have gone in the cassette deck motor.
Leastwise you can see how I have my hands full for a while, and why I won't be writing anything today.