In a press release today, ASH has revealed some startling new figures.
In a major study involving five children at a bus stop, startling new facts have emerged, revealing there is an extensive network of advertising aimed at promoting smoking, and that this campaign is aimed specifically at children.
When shown the following image, the children were asked for their first thoughts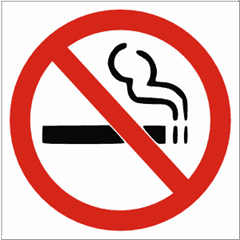 Of the respondents, 99% declared that their first thought was of cigarettes.  A further 14% said it reminded them of cigars and 0.1% suggested two elephants flying over the Victoria Falls.
"This evil campaign has to stop" said a spokeswoman for ASH.
"These evil signs are everywhere, and a great number are displayed less than five feet from the ground which proves that Big Tobacco are aiming their campaign directly at our poor children" she continued.
"We have discovered these horrendous signs everywhere, mostly outside shops but we have found them promoting their deadly product outside churches and even schools.  Is there no end to the depravity of the Tobacco Industry?"
"We have got to think of the children" she said before bursting into tears.
In a follow up study, it was discovered that of the five respondents, within fifteen minutes almost five had become addicted to cigarettes and were now on a sixty a day habit.
Calls have been made to governments around the world to ban the display of these signs altogether.