A few times in the past week I have heard mention of Netflix.
Some people seem to think this is a Good Thing so I decided yesterday to have a look at them.  I just wanted to see what the fuss was about.
I typed the name into the browser and it came up with a company that makes clips to fix a net to a goalpost.  I pondered this for a moment and decided something was wrong.  I was right.  I had misspelled their name.
I got into the site and had a look around.
OK, so it's another variation on the video shop theme.  I have had membership of a video shop in the past, and have also been a member of one of those places that sends you your DVD of choice through the post.
I had a poke around the offerings of this latest crowd and as I suspected, it's a load of crap.  I'm not blaming the company, but there just aren't many decent films out there.  There are some, but I have either seen them or I can live without them.  There wasn't a single offering in Netflix that I wanted to see.
Then I noticed something strange.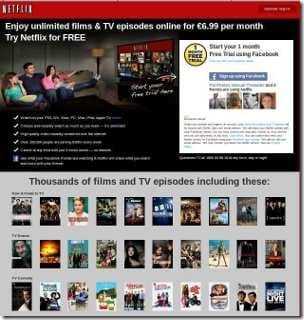 That white square on their front page is trying to entice me to sign up.  And the strange thing is that it lists four of my Facebook contacts.  I thought that this must be just a remarkable coincidence that they should happen to pick four people that I know.
I reloaded the page.  The four "friends" changed all right but I still knew them all.  Each time I loaded the page it threw up people I know.
I have a very simple question at this point.
To list my Facebook "friends" they must know who I am.
How?
How the fuck do they know that it's me looking at their site?  I never gave them my name, address or anything.  I just typed their address into the browser without giving any hint as to who I am.  I didn't follow a link that might have all those strings of letters that let the site know my identity.
I can only come up with one answer and that is that somewhere I have one of those "cookie" yokes belonging to Facebook sitting on my puter, and somehow Netflix have managed to read it, which I thought wasn't possible.
One way or another, I find it rather creepy.
And no.  I won't be joining.