The people of this Godforsaken country never cease to amaze me.
They were given a choice of seven candidates for presidency and the current favourite is a baldy headed fucker with the charisma of a wet blancmange.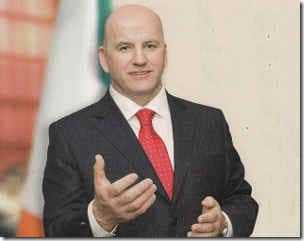 For those of you who don't know the esteemed Sean Gallagher [you lucky bastards], his sole claim to fame is to be on the panel of the Irish version of "Dragon's Den".
I actually watched that programme a couple of times in the past and you can take it from me that it was a total embarrassment.  Gallagher was one of the main instigators of the cringe factor and if you had told me then that people would actually consider him for president, I would have either laughed or slit my wrists.
I can't look at the eejit without thinking that he bears more than a passing resemblance to Homer Simpson.  The only difference between them is that Homer has ten times the intelligence.
I grant you that  in the main the other candidates are a pretty pathetic bunch but I would have put Gallagher at the very bottom of the list, along with that little whinger, the Eurovision singer.
Of course, Gallagher's only other claim to fame is that he is out and out Fianna Fail.  Yes – those back slapping, stroke pulling, brown envelope cunts who drove this country into the ground, and beyond.  He has even admitted to a few very dodgy loans in the past.  Has the Irish electorate forgotten already?  Can they really be that fucking stupid?
The thought of this eejit representing me abroad fills me with dread.  I have a good mind to apply for Libyan Citizenship.
There are times I am convinced that there is absolutely no hope for this country.