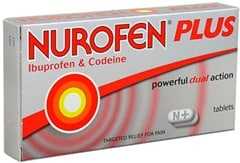 I see someone is supposed to have tampered with packs of Nurofen Plus?
Of course that doesn't affect us here in Ireland.
Why not?
Because the packs that have been tampered with are the 32 tablet packs and they aren't on sale here. 
In Ireland, for some reason that completely baffles me, we aren't mature enough to handle Nurofen Plus.  The powers that be, in their infinite wisdom have decreed that Nurofen is some kind of hard drug and must be hidden from sight.  You heard me – Nurofen Plus is an under the counter drug here.  If you want a pack, you won't see it on the shelves as it has to be hidden from view.  And even then, the salesperson is obliged to give you a stern lecture about the use of the tablet.
I am not joking.
If I go into a pharmacy and ask for a pack of Nurofen Plus, I have to stand there while I am lectured about the fact that it contains codeine and that I am to be careful how I take it.  If I tell then to shut the fuck up, I'm told that I have to take the lecture, or no tablets.
If you really want to cause trouble though, try asking for more than 24.  First you get a stern lecture that 24 is the most they will sell, and if you persist, you have to get a special dispensation from the pharmacist.  You have to be interviewed by a pharmacist [who is usually half my age] as to why you want them.
I have been around since the middle of the last century.  I fucking know what's what and I am fucking mature enough to know what's good for me and what isn't.  To be lectured to by a scut of a sales assistant is fucking humiliating for both me and the assistant. 
As an aside, I can guarantee you that I can walk into any pharmacy in France and ask for a pack of 48.  No problem.  No lectures.  They are there in plain view.  Do I want to buy three or for boxes of 48?  Again no problem, so long as I can pay.  There I am treated like the adult that I am, and it is refreshing.
What the fuck is coming down the road next?
Pubs with no drinks on view in case I might be tempted to become an alcoholic?
Supermarkets with plain unmarked wooden cupboards in case I actually see some food and instantaneously become obese?
Am I to receive a lecture at the  supermarket check-out about the shortcomings of my chosen diet?
This fucking godforsaken country is really starting to boil my piss.