Already, That Question is cropping up.
What do I want for Christmas?
The problem people have when buying me something is that I don't really need anything. My needs are few, and I already have everything I need. Of course there is always clothing, but everyone I know knows damn well that they needn't expect to live very long if they give me a sweater or [God forbid] socks.
There are a couple of things I have received in the past that have been very inexpensive [I refuse to say cheap] that I didn't know I wanted, but I would miss terribly if they now vanished. There is a little light thingy that sits on my front door key – brilliant for finding the keyhole late at night when keyholes tend to sway around a bit in the dark. Then there is a little credit card sized yoke that is a sort of Swiss knife. It has a load of tiny tools such as a tweezers, a knife and a miniature screwdriver.
I have given the subject some thought, and the one thing I would really like is a lighter.
I don't like matches. They are fiddly and as a pipe smoker I tend to get though them like wildfire [heh!], so I prefer to use a lighter. I buy disposable ones in the local shop. For some strange reason, the local shop keeps changing around their stock. Sometimes they have really cheap and nasty ones that break after the first coupe of flicks. Sometimes they have refillable ones that are much better but they tend to break after a while also.
A few weeks ago they bought a stock of Ronson refillables. They were weird yokes as they didn't have the little wheel at the top or a plunger to press. It took me a wee while to get the hang of them, but you light them by sliding one side of the lighter against the other. Weird. Because of this weirdness though, I no longer have my thumb up at the business end so I don't run the usual risk of lighting my thumb instead of my pipe, which is a bit of a relief. Also, Herself can't manage the knack of striking them, so she doesn't rob them on me.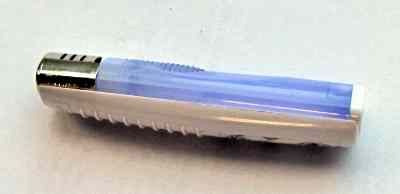 I bought a few, knowing [correctly as it happened] that the shop would change their stock again. I now have a small collection of these lighters which I hope will last for a while. I know though that sooner or later they will probably break [which is why I bought a half dozen or so] and I will miss them when that time comes.
So there is the nub of the matter. What I need is a refillable butane lighter that is going to last. I need one that will light a pipe, a bonfire or a four-wheel drive with equal efficiency. It's not much to ask?
I would appreciate it far more than a fucking sweater.