Driving the country to suicide
I use a yoke called "Woopra" to keep an eye on this site.
It's a fancy yoke with a dashboard that looks like it belongs in Launch Control Centre, or a nuclear power station. All sorts of fancy graphs and tables and colourdy thingies that dance around the screen as people visit.
On of the yokes is what I believe is called a 'cloud'. It's a little box that shows what words people are using to find the site. The more often the word is used, the bigger it is in the box. For a long time now, I have been seeing words like Senior, Sex, Nude and various other words that you wouldn't normally hear in polite company.
Lately however things have changed. I have noticed one particular search appearing on a fairly regular basis, and quite honestly it scares the shite out of me.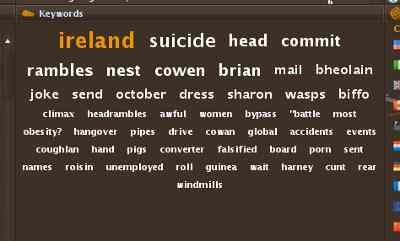 On a daily basis, people are searching for information on how to commit suicide. I happened to glance off the subject a couple of times, so they find this site.
Has it really come to this? Are those cretins in the government so obsessed with cozying up to the banks and Europe that they aren't aware of the total devastation they are causing in people's lives? Are they not aware that they are not only destroying people's businesses but also their lives?
This has gone so far beyond a joke that something has to be done, and done quickly.
Sometimes I despair.