Yet another "study" has emerged.
This one really intrigued me though.
According to this "study" in Scotland, the rate of hospitalisations for children with asthma in Scotland has dropped by more than 18 per cent year-on-year since the introduction of the ban on smoking in public places in 2006.
The study even comes with graph to illustrate this startling decline –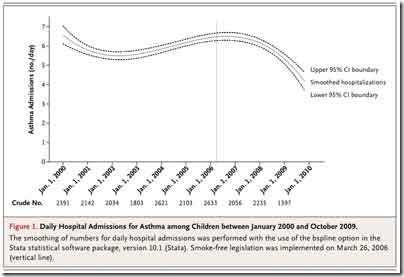 Naturally various prominent sites in the UK have taken this "study" to task, and have correctly pointed out that the supplied figures show no such decline.
Out of curiosity, I tried replicating the graph above using the supplied figures.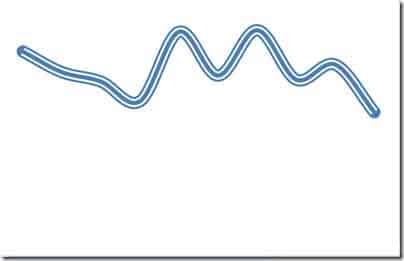 That is the nearest I can get, which only bears a passing resemblance to the original.
Of course, the pro-choice lobby are up in arms about this and are screaming that once again figures are being distorted out of all recognition, and graphs are biased, loaded and just plain incorrect.  I take a different view though.
Just suppose for one nanosecond that the figures are showing a decline, then what conclusions can we conclude?  The Nazis are claiming that the smoking ban is the cause of the decline, but how do they come to this conclusion?
The study refers to children, so we must look at the children's environment in relation to smoking.  Where are children most likely to encounter smoke?  Do children frequent pubs and bars?  I don't think so.  They are usually to be found at home, at school or in the open air.  I think we can safely take the open air out of the equation, and also schools.  I can't imagine that all teachers smoked heavily in the classroom before the ban?  That just leaves the home.
Since the ban was introduced, it is widely recognised that attendance in pubs has dropped dramatically.   One must assume that the majority of the population has not suddenly decided to give up drinking because of a smoking ban, and judging by the increase in off-licence sales, we can only assume that people are now drinking [and smoking] at home.  But home is the only place where children are likely to encounter significant smoke, which [if the study is correct] indicates that an increase in smoking in the home has led to a decrease in the levels of asthma in children.
In my travels around the Interweb I have come across quite a few anecdotal reports of asthma sufferers discovering that smoking reduces, or even clears their asthma, so the above conclusion may not be quite so outlandish as it first appears.
Leastwise, the Nazis have produced their "study" and analysis therefore can only point to one of two conclusions.  Either they have cooked the figures, or they are indicating that smoking reduces the incidence of asthma.
Which is it?
One way or another, I think they have nicely shot themselves in the foot?