There has been some talk in the meeja lately about the burqa.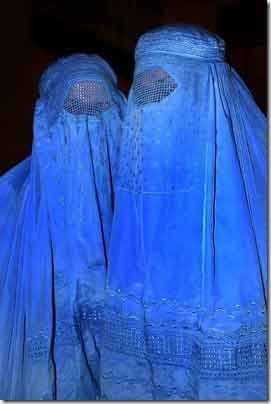 At the outset, let me make my opinion plain – I hate the fucking things.  They look weird and spooky.  I like to see who I am talking to and the idea of talking to a blue sheet out of a Halloween nightmare is slightly off the scale of creepy.
You would imagine then that I would be in favour of banning them?
I'm not.
The Burqa ban is exactly the same as the smoking ban, and every other fucking ban they are trying to introduce, from sugar and salt to alcohol.  It is the imposition of an opinion on the few.  We don't like it, so you can't do it. 
The smoking ban was a turning point in my life.  It had a radical effect on me, far beyond the mere fact that I wasn't supposed to smoke in a pub.  What it did was to make me question the whole business of bans and petty laws.  It made me question the whole morality of governments and their legal systems.  It turned me into a Libertarian.
I am now a staunch believer in the right of the individual.  I believe that as intelligent human beings we have the right to determine our own lives and should have the freedom to choose our lifestyles without any interference from any 'majority opinion'.
I have been giving this subject a lot of thought of the past years.  Some have accused me of banging on about the smoking ban because I have been inconvenienced.  Bollox.  In fact [and I have given this some thought too], if I were a non-smoker, I would be just as vehement in my opposition to the ban.  I would still rant on about it simply because it is a gross interference in civil liberties.  It is the prevention of doing something that is quite legal, simply to satisfy people's prejudices.
There are many things in life that irritate me.  Some are mere irritations, like people shouting into mobile phones on public transport or the sight of an obese kid lacing into his fifteenth can of Coke of the day.  Others cause me physical distress, like perfume causing my sinus to flair up or umbrellas poking my eyes out.  I would like to see those things banned but then what right have I got to impose my likes and dislikes on others?  I have no right at all.  Yet others seem to think it is all right to do so.
If I don't like someone's perfume, I move away from them.  If I don't like the look of a fat kid, I look away.  If I don't want my eyes poked out with an umbrella, I fend it off with a fist [sometimes quite fiercely.  Heh!].  If I don't want to hear someone shouting into a mobile phone, I grit my teeth and remind myself that it is supposed to be a free world, and that there are probably things I do that would irritate them.
I am a free thinking human being.  I have a right to determine my own life.  If I want to kill myself by not wearing a seat belt or taking drugs, then that is my business.  It is up to me to determine the impact on others.  I know the full implications of not wearing a seat belt or taking hard drugs so I make my choice based on those implications.  I have studied in depth the many reports on the health implications of smoking and I make my choice based on those.  No one has the right to make those choices for me.
Aha, you say,  what about the people who aren't informed or intelligent enough to make those choices?  What about them?  Why should the majority have their lives governed because of the stupidity of the few?
The vast majority of people couldn't give a flying shit about the Burqa, obesity, or even smoking.  Before the smoking ban came in, only a very small minority complained.  In fact, I remember a local pub opened a non-smoking room about fifteen years ago.  It was never used so they made it back into a normal room again.
So the next time you see a burqa, just think.
Do you have the right to impose your likes or dislikes on others?