Poor Snady hasn't been getting much of a mention here lately.
I don't know why, as she is rarely away from me.  We are a team and do most things together.
She has become the most affectionate and caring dog I have ever come across.  The only thing she demands from life is that I don't leave her anywhere, and becomes quite pissed off if I do.  As a result, if I'm in out in the grounds, she has to come with me.  If I go in the car, she has to sit in the passenger seat and drive with me.  She is quite happy to be left in the car and will plonk herself in the driver's seat and keep it warm for me until I return.
Once or twice, I have had to go out and leave her in the house.  She usually displays her displeasure at this by making a point.  Once she removed a loaf of bread from the kitchen and carefully placed it in the middle of the sitting room floor.  This is her way of saying "don't mess with me, or I can do some real damage".  Another time she brought a waste-paper basket into the sitting room and up ended it.  Again, a fairly clear statement?
Apart from that, she is a very caring and considerate dog.  If I am having a lie in, she will sit beside the bed, waiting for me to wake up.  It doesn't matter if she is bursting for a piss, she will not wake me.  As soon as I open an eye however, I have to move quickly to avoid a face wash or a lash of the tail.  If I am in a good mood, she is full of beans and all on for a game of tennis on the lawn.  If I am in a bad mood, she will sit by my chair and place a paw on my knee and give me a long sad look as if to say "I feel your pain".
Like myself, Snady likes the quiet life, hates loud tourists and just wants to be left in peace.  If Puppychild is around, she will do her duty and play for a while but soon gets pissed off and will quietly let herself into my 'office' [ever since she was a puppy, she has had no problem opening doors] and will stay there until the coast is clear.
The only thing she hates in life is a thunderstorm.  We had one last night, and she was reduced to a quivering jelly.  She frantically hides herself in the darkest, quietest spot in the house and will lie there panting and shivering until the storm is over.  I used to love thunderstorms, but now I dread them.
I love that dog.  I have had dogs all my life but she is The Dog.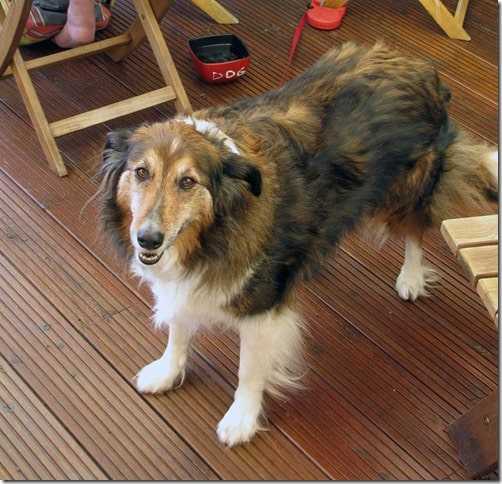 Sandy – The Dog of a Lifetime