For as long as I can remember, I have been searching for the perfect pipe.
I wanted a pipe that was comfortable and well balanced, and it must provide a cool dry smoke.
My first perfect pipe was the Ronson.  It was lovely, as it had a nice cooling system built in.  Unfortunately, it turned out to be not so perfect after all, as the bowl screwed into the stem, and after a while the threads in the wooden bowl wore, and the damn thing leaked.
I tried a Falcon.  Again, that had had exactly the same problem as the Ronson, and I gave up on that.  Tobacco juice is not pleasant stuff when it leaks everywhere.
I have a grand range of briars which I have smoked for years, but they all suffer from the same problem – the juice tends to make the tobacco at the bottom of the bowl soggy and towards the end, the smoke becomes somewhat acrid.  As a result, half my tobacco gets chucked away.
A couple of years ago, I found a great web site – Elie's Freehand Pipes.  What attracted me was the sheer artistry of the pipes he produces.  They are all made by himself in his workshops.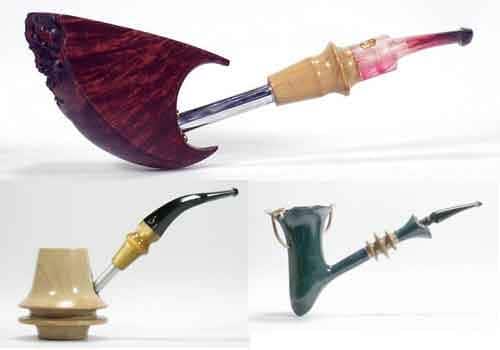 Some time ago, I bought an Elie's Comrade.  This was an excellent pipe.  It had a grand cooling and filter system, and had a series of interchangeable bowls.  It did suffer from a minor design flaw that meant that after a while, leakage started between the bowl and the stem.  Maybe it was just mine – I don't know – but it meant I was having to cope with juice on my hands again.
A few weeks ago, I was browsing his site, and I noticed that he has developed a new range – his EKool range.  They looked great.  I wrote to Elie, who incidentally is the most helpful bloke you could meet and made enquiries.
To cut a long story short, I have found the Perfect Pipe.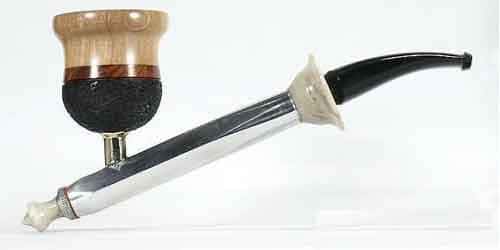 So what is so special about it?
For a start, all joints are metal to metal, so there are no wooden threads to wear.  Then the mouthpiece extends down inside the stem with an ingenious cooling system to prevent goo or liquid reaching the mouth.  When liquid begins to condense and collect, it is a simple matter to quickly unscrew the plug at the end to drain it.  The tobacco remains dry and can be smoked to the last scrap.  The bowls are interchangeable too, and I got a lovely selection.  Last but not least, I think it looks great.  It's different.  It also looks a little on the illegal side, which is a added bonus.
If there is anyone out there contemplating a pipe purchase, then I suggest you toddle over to Elie's site.  There is something there for everyone.  Quite honestly, I would be tempted to buy some even if I didn't smoke.
Incidentally, Elie doesn't know I'm writing this.  He didn't ask me to and I'm only doing it because I am so impressed.
Mind you, if he sees this, and feels he has to respond, I wouldn't half mind a d'ElieSmoke.  Heh!