I noticed the car was a little sluggish when starting it yesterday morning.
I was going to Puppychild's school play, which is important, so I didn't have time to do anything about it.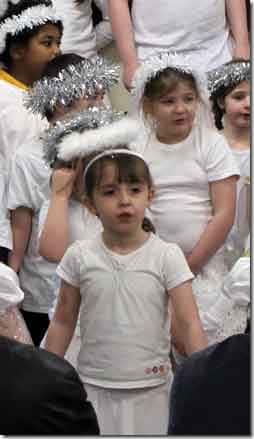 Puppychild being an angel for a change.
The car drove perfectly to the school, and started perfectly after, so I didn't think any more about it.  Batteries can sometimes be temperamental, especially when it is as cold as it was yesterday.
Last night I went for a few pints.  It was a pleasant evening.  The pints flowed, the chat was good and a merry evening was had by all.  Until it was time to go home again.
The fucking car battery was as dead as a dodo.
There is nothing worse than being stuck in the village with a dead car in the small hours of the morning.  What was worse, Spanner wasn't around and he was the only person around with jump leads.  What the fuck was I to do?
I did the only sensible thing.
There was a car there.  I don't know who owned it, but it wasn't one of the regulars so I 'borrowed' it.  You can take it from me that it is not the easiest thing to hot-wire a car when you have around eight pints on you and your fingers are frozen to the marrow.  I don't know how I did it, to be honest. 
I returned that car this morning [it was a heap of shite anyway].  Spanner was around so we jump started mine, and it is now sitting in the front garden with the battery charger running flat out.
I fucking hate winter.