I have a great fondness for music shops.
I'm not talking about your average place that just sells CDs.  No.  I'm talking about shops that sell musical instruments.
There is a shop in Ennis called Custy's that I confess I have never visited.  My loss.  I must call in there some day.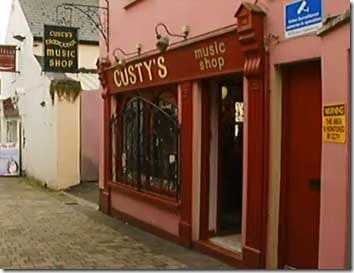 Now, the local lads in Ennis have a bit of a joke going.  After a skinfull of pints, they feel the need for a piss [as one does] and they think it is a great laugh to have their piss through Custy's letter box.  Sometimes they go the extra mile and have a dump there too.
Now, Mr O'Connor, who owns the shop doesn't quite see the joke and is getting a little tired of mopping up their recycled beer and kebabs, and quite frankly, I don't blame him.
He has tried all sorts of things to stop them but they will insist on having their little joke.
Now he has electrified his letter box.
Fair fucking play to him.
He has put up warning signs saying that the box is electrified, so the lads can't complain.  But sure you know lads after a few pints? They couldn't be arsed reading a sign or two, and they will doubtless insist on having their little joke again.
I would love to be a fly on the wall when they fry their nuts.
Of course the Nanny State will come down on the side of the lads.  We must protect even the mindless morons of the state, after all.
But in the meantime, I'm with Mr O'Connor.
I hope he fries the mickeys off them.