Public announcement from WANK
As you know, I have been an admirer of ASH for some time now.
I have always admired their devil may care attitude to science and the philosophy of not letting the facts stand in the way of a good story.  This is the way research should be done.  Who cares if the facts are distorted so long as it looks good.  If you can throw in a few irrelevant but snazzy sounding credentials, then so much the better.
My one criticism of ASH though is that they confine themselves to smoking.  Why?  There are far worse killers out there.
To this end I am founding a new organisation – Warnings About Natural Killers.
We in WANK have already done some extensive research and have come up with some startling results.
In conjunction with Cornell University, we have analysed the water that you drink every day.
Do you know that you are killing yourself with this stuff?
Forty fucking carcenogens?  Fucking radioactive materials?  Do you realise you are in imminent danger of being a nuclear explosion?
Let's have a look at some of these vile chemicals which you are taking into your unwitting body, and will cause you to die of a virulent cancer immediately:
acrylamide
adipate
alachlor
atrazine
benzene
benzo(a)pyrene (PAH)
carbon tetrachloride
chlordane
di(2-ethylhexyl)adipate
dibromochloropropane (DBCP)
1,2-dichloroethane
1,1-dichloroethylene
dichloromethane
1,2-dichloropropane
dioxin (2,3,7,8-TCDD)
di(2-ethylhexyl)phthalate (PAE)
epichlorohydrin
ethylene dibromide (EDB)
heptachlor
heptachlor epoxide
hexachlorobenzene
lindane
pentachlorophenol (PCP)
polychlorinated biphenyls (PCBs)
simazine
styrene
tetrachloroethylene
total trihalomethanes (TTHMs: bromodichloromethane, bromoform, chlorodibromomethane, chloroform)
toxaphene
1,1,2-trichloroethane
trichloroethylene (TCE)
vinyl chloride
arsenic
asbestos
beryllium
cadmium
chromium
lead
nickel
Radium 226, 228
Radon
On behalf of all you poor innocent sods who are drinking this lethal cocktail, we are campaigning to have all water banned from the workplace, home and every other fucking place.
Under no circumstances should you have any contact whatsoever with water.  If you see some, please stay at least one hundred feet away from it and warn everyone else to do the same.  Warn the authorities so that they can collect it in lead lined containers and ship it to safety.
We urge everyone, for the sake of their health to take up smoking cigarettes.
At least they only contain microscopic traces of eight carcenogens.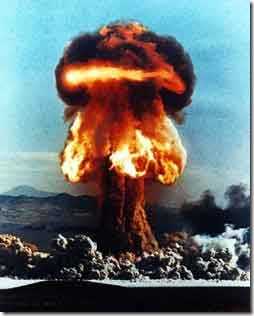 Johnny drinks a glass of water