Guinness shows us how not to drink Guinness
There are times when I am utterly speechless.
There is an advertisement that is being pumped out on a regular basis on television and probably in the cinemas as well, showing fellas drinking Guinness.
You would think I'd be happy with that, but I am not.  I am amazed, disappointed and frankly disgusted.
Here is a still from the beginning of the advertisement –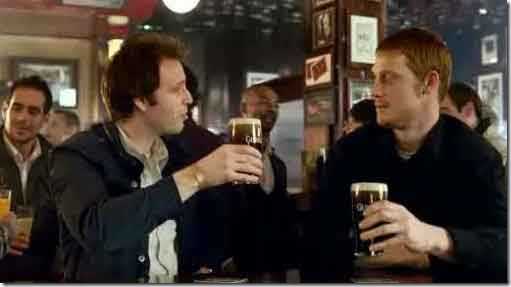 What is wrong with that, you ask?
I would ask you to take a closer look at the pints those yokels are holding –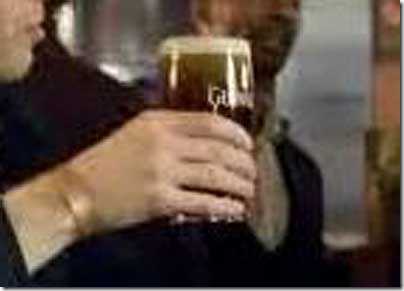 Would you look at that state of that pint?
And to add insult to injury, the ignorant fucker goes and drinks it.  As it is.  On camera.
That is NO WAY TO DRINK GUINNESS.
There isn't a single five year old who would touch a pint in that state and call himself an Irish lad.
The pint should be allowed settle so that there is a crisp line between the black and the white.  Drinking a pint that is only half settled is the kind of thing only a pig-ignorant fucking tourist would do.  I can only hope that Yer Man in the film was quietly put out of his misery and laid to rest in the local landfill, for his own sake.
Now if this were some video shot by some Walter from Connecticut and stuck up on YouTube, I could possibly overlook it.
If this were an extract from a film, I would dismiss it as a display of utter ignorance on the part of a director.
But this effort is produced by Guinness.  Yes – Guinness.  They are the very people who should be showing the great unwashed how to Down the Nectar, instead of which they are pumping out this shite which is going to confuse foreigners even more.
Poor old Arthur J must be rolling in his grave.