I always thought I had a reasonable grasp of economics.
I understood the basic principles –
Shops want more money so they put prices up
Workers want more money to pay the shopkeepers so they look for a pay rise
Workers go on strike
All hell breaks loose until eventually workers get half what they asked for.
And so on.
That is called inflation?
Deflation is where everything goes backwards.
Shops can't sell things so they drop prices
Workers take pay cuts or lose their jobs.
No one buys anything because it will be half the price next week
So my understanding is that with inflation, everything goes up?
Deflation is where everything goes down?
I was doing a drop of on-line shopping last night and decided to use Tescos.
I found this –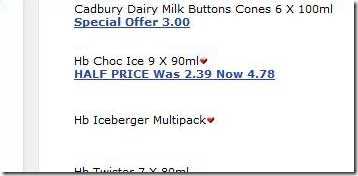 Now I am really fucking confused.