I have just realised that the holidays are nearly here.
It is less than five weeks to the great day when I can escape from this miserable fucked up land.
I first started scouting for somewhere to stay last October.   You may think that is a little early to be looking for holidays, but it beats the hell out of staring at the rain pissing down on an autumn day. 
I found a little place and wrote to the owner.  He sounds like a nice bloke, and even offered me free broadband.  Yes.  All mod cons – running water, electricity and broadband.  Shame about the lack of toilet and washing facilities, but fuckit it's a holiday?  If any of you are interested, I took a photograph of it just now.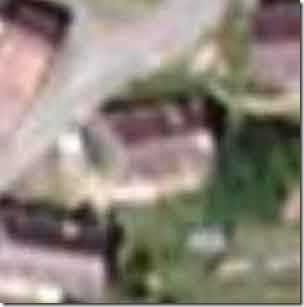 Sorry it's so fuzzy, but the camera was several thousand miles away.
Now that you know what it looks like, you can easily find where it is, and can drop in anytime. You are all welcome.
I have a few things to do in the next less-than-five weeks –
Put a deposit on the house.  [He should be expecting this, what with the lack of toilets?]

Book the ferry.

Passport must need renewing by now?

Get the car overhauled.

Learn French.
I have a nagging feeling that I have forgotten something but I can't think what it is.
Thank God I don't believe in putting off things until the last moment.