There was an item on the news during the week.
I watched it, had a great laugh and rendered a hearty 'Aw, for fuck's sake' and went about my business.
The story continues to do the rounds though .
It is, of course the Holy Tree Stump.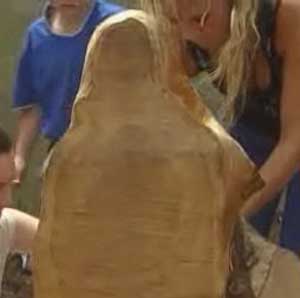 For those of you who have been too wrapped up in trivial things like life, the story goes that a tree was felled in County Limerick as it was in a dangerous state.  Some gobshite then looked at the stump and declared that he could see The Virgin Mary.
Quite frequently, when I am coming home from the pub, I see wondrous things.  There is the local bulldog that, after ten pints bears a remarkable resemblance to Mary Harney, and only last Thursday I saw a hippopotamus climbing up the church steeple.  I don't mention these things because presumably everyone else sees them too.
This prat however spread the word, and soon the innocent, the gullible and the plain stupid were flocking to see this apparition.
I have nothing against religion and people can believe what they want, but I do find it a tad weird that people should start making pilgrimages to venerate a tree stump.  There is now a petition with over a thousand signatures demanding that the stump be retained as a shrine.
I have looked long and hard at the photograph.  I must admit that after staring at it for over an hour I am beginning to see a shape appearing.  In fact I am prepared to admit that it does bear a remarkable resemblance to …… a tree stump.  Unless, of course the are referring to the blonde with the tits, but I don't think so.
Of course there have been other occasions when people have attacked trees with various implements and have sworn blind that the result bears some kind of humanoid form, but I just can't see it myself.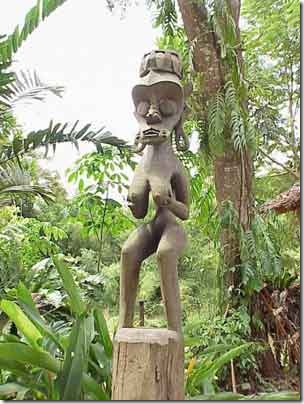 I feel very sorry for those people who are pinning their hopes on a lump of wood.
I shall include them in my prayers as I sit and meditate in front of my patch of black mould on the kitchen wall.
I swear that mould is a divine apparition.
It is the living image of God.