One of the most irritating things to appear on this Interweb is Twitter.
For the life of me, I cannot understand it.
You send text messages and are confined to 140 letters, and that includes spaces.  People then answer you when you aren't looking and you have to try to work out what the fuck their answer means.
I mean to say, I have had erudite replies such as "Not long now, there's always sacks full of them going by in the river beside me. It's a pussy buffet", or "*boom tish*".  Now unless I have a damned good memory [which I haven't] how the hell do I know what they are on about?
Another irritating thing about it is that I use a thing called Tweetdeck.  Now that is grand because I can bury it under a load of other programmes but the fucking thing keep popping up an irritating little thing in the corner of my screen, telling me that some prat has said something that is so fucking boring that it would make the phone book look interesting.  And if I switch it off, how am I suppose to know if someone has sent me a message?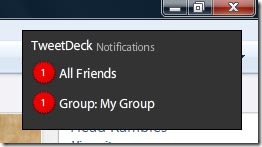 And then there are the names!  God give me strength!!
Tweeting ?
Twittering  ??
Retweet  ???
Jayzus!!!
Of course everything that everyone says is intensely boring.  Do I want to know they are on the bus?  Do I want to know their coffee is growing cold?
I have two principles –
If I have something to say, make it interesting.
Don't say anything.
See?  It's simple.
And if anyone wants to watch me sating nothing, I have even added a button.