Some people wonder why I turn my sporting talents to hunting tourists when there is so much wildlife around.
I love wildlife, and wouldn't harm a hair/feather/scale/whatever on its head.
I was browsing around this morning and I came across a wee article. It wasn't exactly earth shattering news, but it makes a change from the miserable crap that fills most of the papers these days.
Apparently, a Mistle Thrush built a nest in a gutter.
Nothing strange in that?  No.  Not really.  But it went and built it at the bottom end of the slope so that when rain fell, the gutter was blocked by the nest.  As a result, after a good rainfall the nest and the chicks would get drenched.
Being extremely intelligent, they sorted the problem.
While the male carried on the business of feeding the chicks, the female puffed out her feathers and sat in the gutter [a good place for the female?] and dammed the water.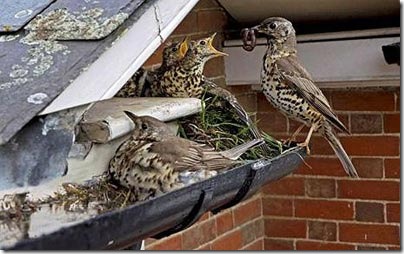 Now that is clever.
A lot more clever than any damned tourist I have ever seen.