I was browsing through the paper on Saturday when I came across an advertisement.
The Railway Preservation Society of Ireland are running one of their excursions.
I would love to go on that excursion, but circumstances conspire against me, and it is unlikely I could make it.
Most of you will never have experienced the joys of a steam locomotive, and will therefore find it hard to understand why anyone should pay good money just to travel on a train.  Steam travel is an entirely different experience however.
Steam locomotives are more than just the sum of their parts.  They are more than just lumps of metal.  To stand beside a steam locomotive in a station is to experience a unique phenomenon – a living machine.  Modern diesel and electric locomotives are soulless mass produced items that can only be told apart by their numbers.  When to you ever see a young boy standing gazing in awe at a modern locomotive?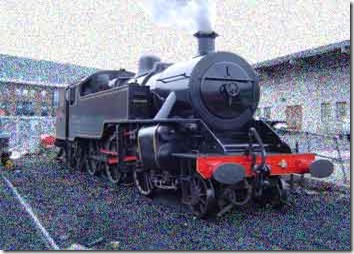 Whenever I was going on a train journey, the first item on the agenda when we arrived on the platform was to run and admire the locomotive.  Here was a living, breathing thing of beauty that was not just built to pull a train, but was to be admired.  Who can forget the sounds of steam?  Who can forget the smell of the steam and smoke, the hot metal and the smell of oil?  It was an odour of childhood and of excitement.
Steam locomotives were both loved and hated by the drivers and firemen.  A locomotive had to be fired up hours before a journey, and there was a long list of items to be checked and oiled, before taking on coal and water.  However, the locomotives were cherished, loved, painted and polished until they were gleaming.  The drivers and firemen took great pride in their charges and it showed.
Travelling on a train pulled by steam was a different experience too. There was something reassuring about the sight of the smoke curling off across the fields.  In those days, when one booked a seat, one had to specify if one wanted to travel 'back to the engine' as smuts came in the window, and forward facing seats tended to gather a bit of fallout. 
Steam excursions are very popular these days.  I think it is more than just a desire to see these magnificent beasts back in action.
It is a hankering for the days before mass production, when people took a pride in their lives and when beauty and functionality took equal places.