I'm sure you are all gagging to know what was in that parcel I had delivered last Friday.
I'm sorry for spoiling your weekend with the anticipation, but you can relax now, as I will tell you.
It was a camera.
Up to now, I have been using a Konica Minolta Dimage Z2 which was a nice camera.  It was a nice camera to use, but it had small limitations.
I decided to treat myself to a new one as a sort of belated birthday present, so I bought myself a Canon PowerShot SX10IS.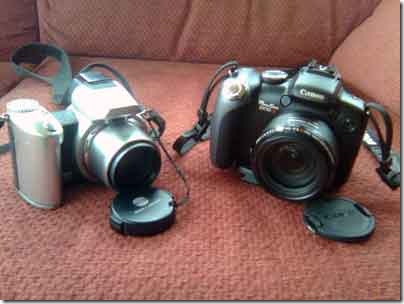 The old and the new.
One of the many reasons I got this particular model was that it has an excellent telephoto lens.
Why would I want a telephoto lens, I hear you ask.
You see, I live up the mountains, which means I look down on people without fear of being accused of being a snob.  Being on a height I can look into peoples back gardens and their bedroom windows.  Telephoto lenses are very important to me.
I did some messing around with it over the weekend.  I stuck it on a tripod and aimed it out the window, because it was fucking cold and I didn't see why I should go outdoors.  I took this photo –
Without moving the camera, but just changing a couple of settings, I got this one –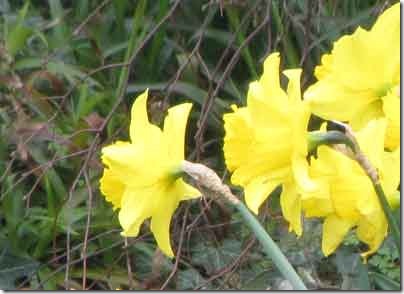 In case you are wondering, Those daffydowndillies are the little yellow blodge at the bottom of the tree in the first photograph.
I don't know about you, but I'm impressed. 
I won't go into all the technical explanations of what the camera can do because I'm sure you would find that boring, and people who brag about their technical specifications are only trying to impress themselves, and probably suffer from Small Penis Syndrome.
So am I going to take lots of photographs?
Yes.
Am I going to publish them here and turn this into a 'photoblog'?
No.
Go take your own.