I took a peek at the RTE website today.
It was just a casual look, more to see if there was any interesting news than anything else.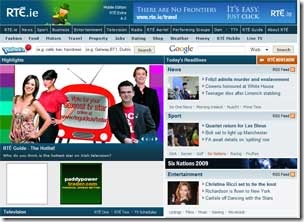 The first thing that caught my eye was my old friend Lucy Kennedy.  You couldn't very well miss her as the ad took up about five acres of the screen.  So I clicked on her to see what would happen.
The screen I was presented with asked me to vote for the hottest Irish male.
I am no homophobe, but I feel uneasy about describing any male as 'hot'.  I had a look at the meat that was on offer.
Oh, for fuck's sake!  Plank is in there.  Here is the one bloke who is guaranteed to make any real woman top herself from sheer boredom and he is supposed to be 'hot'?  And Martin King?  That idiot that can't stand still for one second and who looks like he has a cattle prod up his arse?
I wanted to skip that section but I couldn't.  I had to vote to go any further, so I picked one at random, but being very damned careful to avoid Plank and King.
At last I was into the decent stuff – Irelands hottest females.
There were a few tasty bits on offer, and I'm very glad to see my Sharon in there, so I gave her one before going any further.
I have never heard of quite a few of them.  God preserve us, but I see the Seoige sisters in there.  I can't understand what other men see in those two bimbos.   Glenda is there, but she is an ex, so I couldn't vote for her anyway.  And Miriam has too many kids.  I left my mark on Sharon and moved on.
Bloody hell! I have to choose the hottest international male?
I looked through the list and there were about three names that I recognised.  They are the greatest shower of wankers I have ever seen.  They even have that lunatic Brand in there?  As for Gary Lineker – I throw up every time he comes on with that fucking crisps ad on the telly.  Another random click, and on I go.
Now you would think that the line-up for the hottest international female would be the stuff of wet dreams, but just look at them!  There are one or two that have a fairly high shagability factor but the majority look like they have a combined IQ equal to the value of a share in Anglo Irish Bank.  What is worse, I haven't heard of most of the programmes they are on; or if I have heard of the programme, I wouldn't stoop to watch it.
I gave up at that stage as I don't want to run the risk of another dose of the clap.
I have one question though.
Why the fuck am I not in there?