Budget Car Rentals and a case of inflation
Last June, Peter Donegan wrote a piece about Budget Car Hire.
He had seen an advertisement for Budget Car Rental as follows
Full Size 4 Door e.g. Toyota Avensis or similar

Euro €34.00

Price includes all compulsory Insurances, Government Tax, Unlimited Mileage and 24hr Breakdown cover.
Please take a moment to read the Terms & Conditions of rental before making your booking.
He thought that was a reasonable offer, and availed of it.
He hired the car one morning in Cork, and returned it that evening.
To his surprise he received the following bill –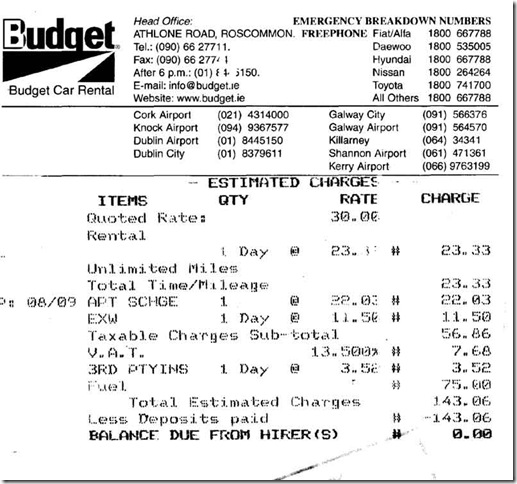 Now, just take a look at the Total Estimated Charges.  €143.06.  Yes.  That is One Hundred and Forty Three Euro.
Not bad for a hire that is advertised at a mere €34?
Naturally, Peter queried this, as anyone in their right mind would.
He also got in touch with the Car Rental Council of Ireland, the National Consumer Agency and Fáilte Ireland, amongst others.
Why not?
They had advertised a rental at €34, but the "small print" had brought the estimate up to €143.06.
All of this went on last June and July, which is seven months ago.  In the world of the Interweb, seven months is a very long time.
So why is he now receiving threatening phone calls?
Why is "a legal office" demanding that he remove a seven month old post within 48 hours?
If this "legal office" is indeed representing Budget Car Rental, then why are they suddenly moving with such urgency?  It's hardly as if the post is documentary evidence?  It's not even as if Peter had written anything libellous.
If he claimed that Budget Car Rental were committing fraud, or that Budget Car Rental were deliberately conning people, then they might have a case against him, but he didn't.  He simply stated the facts.
There is something very fishy going on here.
I would love to hear real legal opinion as to the legality of his post.
A very strange update.
I now hear from my very reliable sources that the 'legal office' is, indeed acting on behalf of Budget Car Rental.
However……
Budget Car Rental deny any hand act or part in it and are anxious to find out who this 'legal office' actually is!
This is very weird.