I have a very simple solution to Ireland's financial problems.
I hear that Mugabe has no further use for his Zimbabwe Dollar.
Fair enough.
Why don't we quit the Euro and adopt the Zimbabwe Dollar?
We can adapt it to our own needs.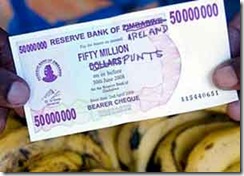 I reckon we could buy it at an exchange rate of about one Euro for Z$50,000,000
We would have to rename it, of course.
Just think –
It is deflation proof.
And we would all be multi-millionaires.
Sorted.