There are two times during the year that I dislike.
There is the depressing period which lasts through November and December.  That is the time of dark wet night and fucking Christmas commerciality being rammed down my throat.
We are bang in the middle of the other period – The Gloomy Period.
There are nice things about this time of year, such as the lengthening evenings and growth in the estate. The daffydowndillies are thriving and should be showing buds soon [which is about six weeks too early?].  The snowdrops and the witch-hazel are all in full flower.
But I get pissed off with the weather.  It's cold and damp.  I hate damp. It's grey and it gets into my bones.
I have developed a wee trick when the gloom sets in.
If I'm working on my laptop, I minimise all my windows for a little and stare at the screen.  I feel much better.
Now why in the name of all that's holy would I want to stare at a blank screen?
The answer is as simple as it is obvious – my wallpaper.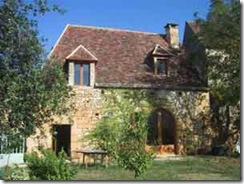 Of course the picture on my screen is just a tiny bit bigger, but you get the idea.
Look at that blue sky!
I have other photos too.  I must set them up as a slideshow.
This one is the view from the front of that house.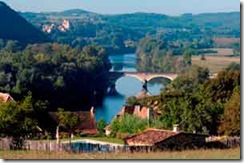 I booked it last October in a fit of madness and despair at the early winter.
Also in a fit of madness, I booked it for a whole month.  I have never had a whole month on holidays.  In fact, including travel, it will be nearer five weeks.
It's a long time to the holiday, but I don't care.  I love the anticipation.  In fact I find the anticipation is a whole aspect of the holiday in itself.
There are four of us going.
Herself [if we're still married], myself [someone has to do the driving], Sandy [who has never been abroad before] and Roger in his little SatNav thingy.
I don't believe in wishing my life away.  At my age you begin to appreciate that life isn't limitless.
But fuckit.
I can't wait!