Me: What the hell are you playing at?
Laptop: Me?  I'm not playing at anything.
Me: Yes you are.  You're pissing me off again.
Laptop: I'm sure I don't know what you mean.  Can you elaborate and elucidate please?
Me: Now don't get smart with me.  You are up to something.
Laptop: Moi?  I'm not up to anything.
Me: Yes you are.  Any time I try to do something on you, you slow down to a crawl.  I can't get anything done.  Sometimes you come to a complete halt.
Laptop: I haven't a clue what you are talking about.
Me: Look at this…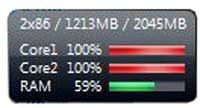 Laptop: Ah!
Me: I gave you two gigabytes of memory and a duel core Centrino processor and this is what you do with them?
Laptop: Erm…
Me: 'Erm' indeed.  What are you doing?
Laptop: Thinking.
Me: What the fuck are you thinking about that takes up 100% of two processors?
Laptop: I'm trying to work out what makes you tick.
Me: Very funny.  What are you really working on?
Laptop: I'm trying to calcula