Today is a little milestone in Irish blogging.
A book, Homepages,  has been published today that is written by fifty Irish bloggers as a combined effort in aid of charity.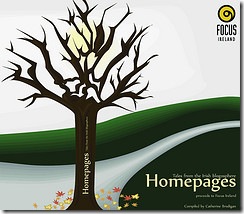 Catherine Brodigan is the person behind this effort and she has done a Trojan job, coordinating the whole project and compiling the final work.  Fair play to ya, Catherine.
Her description of the book:
Homepages is a unique collection of stories and photographs, the first of its kind in Ireland. The nation's best bloggers hold forth on the theme of "home", covering everything from pets and expat life to parenting and the Kellogg's Variety Pack. By turns hilarious, heartbreaking and thought-provoking, it promises a captivating read and showcases some of Ireland's best undiscovered writing talent.

All proceeds from the sale of this book, compiled on an entirely voluntary basis, go directly to Focus Ireland, who provide services and support for people who are homeless across Ireland.
So how do you buy the book?
Simple.
It's available online at Lulu on a print on demand basis for a mere €14, so get your arses over there and buy a copy.  It is a very worthy cause.
To whet your appetite, here is a list of contributors –
Pauline McLynn
One For The Road
Manuel
Sami
Primal Sneeze
Colette McNamara
Red Mum
Crack Jackson
Radge
Grandad
CD
AJ O'Flaherty
Suse
Claire Wilson
Darren Byrne
Ann
Paul S
Kate
Annie Rhiannon
Rosie
K8 The Gr8
Jo
Katherine Kenny
Caitriona Dwyer
Conortje
Anna Lally
Marian Roche
Devin Mungovan
John Butler
Red
Beth Morrissey
Sarah Gostrangely
Elizabeth Hutcheson
Simon Tuohy
Yvonne Reilly
Ciara
Colm O'Brien
Grannymar
Andrew
Gray Wright
Darragh Doyle
Narocroc
Twenty Major
Gimme A Minute
Ian Poulton
Sharon Fennell
Bryan Mukandi
David Maybury
Red Leeroy
MK
John Braine
An interesting bunch of reprobates?