I sometimes wonder if I'm too old for this lark.
I met up with a group on Friday to do some filming.  That in itself was fine.  I don't mind cameras, except that I always sound like a total wanker in the final film.
What struck me for the umpteenth time was that I was a fish out of water.
Sitting here up the mountains, it's just me , the laptop and The Other Fella doing the typing.  I can forget about the world at large.
But then I meet up with the people who also blog and comment on this site and I feel bloody ancient.
When I was their age, none of them had even been thought of. 
In the bad old days, when I was a grunt in an office, it occurred to me that most of my colleagues hadn't even been born when I started in the organisation back in the seventies.  That is a very scary thought.
So there I am, sitting in a group who know what an iPod is and can work their way through an Xbox.  This is the Twitter generation I'm mingling with.  Can you seriously imagine a pensioner at a student party?
To make matters worse, I get home and there is a big fluff going on about a fourteen year old blogger who probably knows more about the game than I do.  I am old enough to be Tommy's great-grandfather.  Fuck!
Maybe it's time I went back to the old fountain pen where I belong?  Maybe I should be meeting up with the local pensioners instead of hanging around with the young folk?
What the hell am I doing here?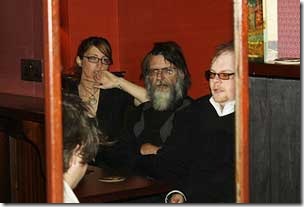 Spot the odd one out